Responding to Basement Flooding in Wisconsin -as seen on Channel 12 News
Recent heavy rainfall has caused a lot of trouble for homeowners across Wisconsin. Basement flooding quickly grew into a regional problem. We even got a plug of our own from a feature on clogged drains from Milwaukee's Channel 12 news. Roto-Rooter Milwaukee's Ben Huth earned some much deserved camera time as he told news crews what they need to know about professional plumbing and sewer service.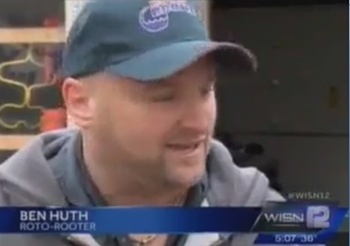 Clogged Drains and Failing Sump Pumps Most Likely Culprits
Our operations manager discussed how flooded area drains, driveway drains, and catch basins could get clogged with mud, leaves and sticks. These kind of issues kept our crews very busy, using high pressure water jetting to clear away the debris, alleviating clogs and readying clients for the next round of heavy downpours.

Sewer drain backups, often caused by frozen sump pumps can flood basements and cause massive property damage. Preemptively identifying slow running drains and having them cleaned by a professional Wisconsin plumbing and drain service is your best path to avoiding this problem down the road.
Call Roto-Rooter today to solve your area-Milwaukee basement flooding problem. We will identify the source of your drain clog failure. Roto-Rooter resolves your issue with the latest drain cleaning technologies including high pressure water jetting or using a cutting machine to chop away at tree root masses.