Drain Cleaning Equipment Guide
Roto-Rooter Cutting Machine Sharply Clears Drains
The Roto-Rooter cutting machine was invented in 1933 by Samuel Blanc.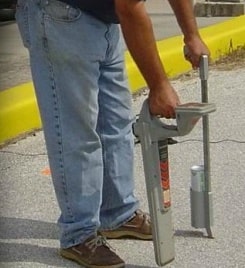 After continuous drain unclogging services with speedometer cables, Samuel knew a more efficient method existed. With the use of household materials, Samuel created a state-of-the-art Roto-Rooter cutting machine. Wood, wagon parts, a washing machine transmission and a motor started the beginning of Roto-Rooter's success. The machine was so effective Samuel decided to patent it in 1935, the beginning of Roto-Rooter. The machine is designed to cut through stubborn roots which become engorged inside drains and sewers. The patent soon expired and the cutting machine was replicated. The effective machine is used today by companies across the nation for superior plumbing solutions. Roto-Rooter remains as an innovator in the plumbing industry and continues as a standard of excellence in drain and sewer cleaning all over the world.
Sewer Line Televising Cameras Provide Accurate Plumbing Solutions
Television inspections are the most efficient and effective methods of sewer drainage diagnostics. A sewer line television camera quickly identifies drain clogging issues. Whether you're experiencing root intrusion, corrosion, grease buildup, blockage or a leak, our sewer line televising cameras will detect all. Milwaukee Roto-Rooter's experienced plumbers will immediately determine the most efficient method to unclog your drain. Radio transmitters on the camera record the depth and physical location from the surface of any defect or obstruction. Roto-Rooter's skillful plumbers will then accurately diagnose the cause. Our sewer line televising camera leaves no room for error providing quick and cost effective solutions.
If you dropped a valuable piece of jewelry down your drain or sewer, Roto-Rooter's sewer line camera will locate it for you promptly and put your worries at ease.
Water Jet Cutting Machine Provides Expunging Results
There are a number of causes of commercial and residential drain line blockages. Grease, sludge, sand and debris are just to name a few. Milwaukee Roto-Rooter's skilled plumbers and drain service technicians utilize a high-pressure water jet cutting machine to eliminate these clogging debris. Below are methods in which a water jet cutting machine effectively unclogs drains and sewers.
Penetrates and emulsifies grease
Breaks up sludge and debris
Pulverizes roots
Cuts and hardens scale
Flushes out the system
The water jet cutting machine is ideal for mineral deposits, grease buildup, sludge and debris which accumulate in sewer and drain lines from day to day.
Roto-Rooter's water jet cutting machine is an efficient, economical and environmentally safe way to unclog drain and sewer pipes. The machine utilizes a pump and flexible hose which propel water under varying amounts of pressure into the drain. A special nozzle mounted on the end of the heavy-duty hose forces water in the opposite direction powerfully directing it to the top of the pipe lines. No blockage or buildup can stand up to Roto-Rooter's water jet cutting machine.
Water jet machine services mean cleaner pipes and overall cost savings. Protect and prevent your pipes from everyday harsh elements.