Roto-Rooter Milwaukee Drain Cleaners Now Serve Waukesha County
Roto-Rooter drain cleaning services have expanded to Waukesha and the surrounding areas. We are standing by to dispatch the nearest Waukesha emergency plumber 24 hours a day to any of the nearby cities and towns.
Providing plumbing and drain cleaning services for over 70 years, Roto-Rooter is the world's most trusted name in drain clearing. When someone has a drain clog Roto-Rooter will immediately come to mind. Our drain cleaners have established a reputation for professional maintenance and swift emergency plumbing response times. We're bringing this plumbing knowledge and expertise to New Berlin, Brookfield, and Menomonee Falls.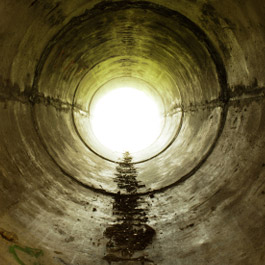 Plumbers Clear Roots from Waukesha Drainage Pipes
Root proliferation in drain pipes is a common and very tough source of outdoor drain clogs. Root clogging is so common it's part of our namesake, Roto-Rooter. When trees are planted near underground water drainage pipes, their powerful roots slowly tear into drainage pipes, growing from the ample moisture provided by your drainage system. Soon the roots begin to completely fill the drainage pipe, halting the flow of water and causing flooding which seriously damages your Waukesha home.
Before the Roto-Rooter, drainage pipes with root proliferation had to be completely excavated and replaced in a time consuming and costly procedure. The original Roto-Rooter machines used steel blades to cut deep underground root clogs. Today, our plumbers use modern proprietary Roto-Rooter machines to spray high-pressure water, cutting through tough roots. After the clogging roots are separated from the tree's root system, our expert technicians remove them from your drainage pipe.

Drain Cleaning for Residential Areas in Waukesha
When your in-home plumbing fails, whether it's a clogged sink or an overflowed toilet, Roto-Rooter technicians are available 24 hours a day. Don't wait until morning comes and your house is already water damaged; call a Roto-Rooter technician and save your walls, carpet and furniture.
Roto-Rooter Drain Cleaners for Waukesha
Roto-Rooter is excited to bring the services of a fully equipped plumbing franchise to the cities around Waukesha. We're now operating in the entire county, even beyond Mukwanago and Oconomowoc. We have a great history of providing effective plumbing solutions worldwide. Like all of our Milwaukee drain cleaners, these highly skilled technicians will show you why Roto-Rooter is the number one name in plumbing.
Contact our drain cleaners for service in Waukesha today.