Milwaukee Drain Cleaning Service
Roto-Rooter Milwaukee Drain Cleaners: the Leaders in Sewer Drain Clearing
Roto-Rooter is the paramedics of Milwaukee drain cleaning. We make your emergencies feel routine with prompt response times and immediate results. From single drain cleaning home emergencies in Waukesha, Ozaukee or Washington County, to commercial Milwaukee sewer cleaning and maintenance, we're ready for your drain issues 24/7.
Fast Plumbing Service for Slow Drains, Guaranteed
We've earned our outstanding reputation by routinely clearing drains where our competitors come up short. We WILL solve your sink, urinal, downspout and floor drain troubles, guaranteed. Call our expert West Allis drain cleaners (instead of an expensive plumber) for a price quote today: 414-541-4477.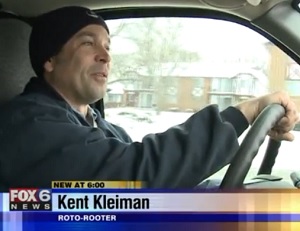 24 hour Emergency Service
Any time, any day, our Milwaukee drain cleaners will free your clogged drain from obstructions or build up while minimizing future drain clogging. Our technicians are so fast and reliable, our emergency drain cleaning services have been featured in the news. When your drain cleaning problem hits, you don't have time to wait around for an average or even a great West Allis plumber, you need immediate response and the best drain cleaning Milwaukee has to offer. For a prompt, professional services, contact your Roto-Rooter Milwaukee drain cleaner at 414-541-4477.
---
---
Best Sewer Drain Cleaner Milwaukee has to Offer
Your Roto-Rooter Milwaukee drain cleaner are prepared to handle any drain related projects. All our West Allis drain cleaning professionals arrive equipped with every tool necessary for unclogging drains, locating hard-to-find underground lines and leaks, and diagnosing or discovering blockages with state-of-the-art fiber optic color cameras—sewer line televising. We'll resolve your beverage station drainage issues by cleaning out dirty or clogged soda lines. We even pressure wash graffiti and clear out mud-filled electrical conduits.

We've earned our reputation as the top name in Southeast Wisconsin and Milwaukee drain cleaning services. We'll assess your draining problems and neutralize any dirt, ice, hair, or other blockage standing in the way of a smooth flow.
Our drain cleaning process includes preventative maintenance addressing future drain clogs and drain smells. We offer preventative drain clogging products like enzyme urinal blocks, Rootx Chemical Root Control, and the inner-coating Roto-Rooter Pipe Shield.
No Milwaukee Drain Cleaning Project is Too Large or Too Small
We routinely handle projects as small as a single Waukesha sewer clearing or New Berlin drain clean out. Each Brookfield bathtub unclogging or West Bend sink cleaning is important to us. Our drain cleaning experts also handle industrial maintenance and the largest Milwaukee commercial drain cleaning jobs: including Mitchell International Airport and the Harley Davidson plant. From Muskego to Mequon, our uniformed Milwaukee drain cleaner will arrive on-site and treat your drain cleaning project with personal respect and professional efficiency.
Apartment Complexes, Businesses, Homes, etc.
Roto-Rooter Milwaukee handles any drain clog. The type of drain doesn't matter. The building's zoning is disregarded. You call us, and we come to clear your clog. We've worked on multiple drains at one apartment complex in one day when the maintenance man was sick. We've worked on municiple buildings. We've worked in businesses and people's homes. Everyone was pleased with our services.
Call our Roto-Rooter Milwaukee drain cleaners 24-hours-a-day for Ozaukee, Washington, and Waukesha Drain Cleaning RESULTS.
Real people, real price quotes. More Americans rely on Roto-Rooter than any other drain cleaning company. You deserve the service of a uniformed professional who shows up at YOUR convenience. Let us solve your routine or emergency Milwaukee drain cleaning problems.
For reliable free estimates and guaranteed results for problem drains disrupting the flow of your life, call the Roto-Rooter Milwaukee drain cleaners today: 414-541-4477.