Glendale Drain Cleaning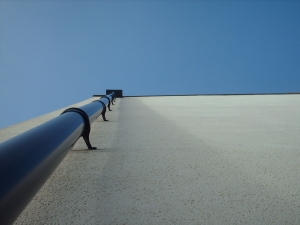 Roto-Rooter Clears Even the Worst Drains
A broken sewer line is bad enough—what follows is worse. If your sewer line is broken, you may begin experiencing:
Sewer gas odor
Clogs and backups
Soggy lawn
Insect and rodent infestation
Mold and mildew
Cracks in your foundation and walls
It truly is a nightmare—our client was on the brink of his own nightmare when he finally picked up the phone and called Roto-Rooter Milwaukee.
Our client was in desperate need of drain cleaning services, and when two other local plumbers ran away from the problem, he contacted us as a Hail Mary. Good thing for our client: we're the best drain cleaning company servicing southeast Wisconsin. Roto-Rooter has been a household name for a reason and here's why:
The professional Glendale drain cleaning experts at Roto-Rooter completely cleared the sewer line of roots, working diligently for 14 hours to get his sewer up and running again. We used a miniature camera to find and extract all roots from the pipes, effectively clearing the sewer line before serious damage to take effect.
Our professional drain cleaners provided quality service every step of the way, and further provided our client with maintenance tips to prevent future clogs. Roto-Rooter offers drain cleaning maintenance every 2 years to keep the sewer line functioning as it should.

Glendale Home & Business Plumbing Services:
Better than your Average Plumber
If you have a job too big for Glendale's other drain cleaners, give us a call. We'll come right over and clear out any sized tree root or other clog. If we're not at a previous appointment, we can be on-site and hard at work in Glendale in under an hour!
Emergency Drain Cleaning in Glendale
If you have a bad clog after business hours and are worried about downtime the next day, Roto-Rooter has got you covered! We have 24/7 emergency drain clearing services in Glendale for Wisconsin residents. By taking care of clogs when they happen you can save yourself a fortune in potential water damage, have your business operating as normal, and be assured that your pipes stay clear by placing your faith in the hands of a trained professional at Roto-Rooter!
Contact our experienced Glendale drain cleaners at Roto-Rooter for 24 hour emergency drain cleaning services today.