Menomonee Falls Drain Cleaning
Keep Menomonee Fall's Pipes Flowing with Roto-Rooter Milwaukee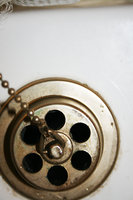 Extreme sewer blockages require professional treatments. Roto-Rooter Milwaukee has all the necessary tools and equipment to clean a badly clogged drain and offers 24/7 emergency services in Menomonee Falls. Roto-Rooter Milwaukee's drain cleaners are equipped with the tools and expertise to handle everything from small drain issues to massive tree roots blocking an entire lateral.
Water jetting services go above and beyond traditional snake cleaning services. Instead of just creating a small hole which quickly becomes a full block again, our water jet blasts through layers of congealed grease, sludge and other debris accumulated in your pipes.
After being water jetted, your drains will run smoothly. Add our preventative maintenance products and your drains will be problem free, year round. Roto-Rooter Milwaukee provides Menomonee Falls with expert plumbing and drain cleaning services.
We also offer sewer line locating services to assist you in planning renovations or excavations and fiber optic camera inspections to get a first hand look at the problem in your drain or sewer.
Drain Service and Repair in Menomonee Falls
If you're a home or business owner who is tired of battling with a clogged drain or sewer pipe, Roto-Rooter is the number-one Wisconsin drain service and repair company for you! We offer 2/47 emergency services, and if we're not already on another appointment we can be in Menomonee Falls in less than an hour! We arrive on-scene with everything we need to get your sewer pipes back to like-new condition, and our drain clearing specialists make sure your clogs are gone for good!
If you can even get a plumber to show up at all, it can often take them hours to arrive on scene, and once the job is done you are left with hundreds of dollars in bills for only an hour of work! Save money, time, and stress with Roto-Rooter, and let our professional sewer drain cleaners unclogg your pipes at just a fraction of the cost.