Best West Allis Drain Cleaners
Roto-Rooter West Allis Drain Cleaning Services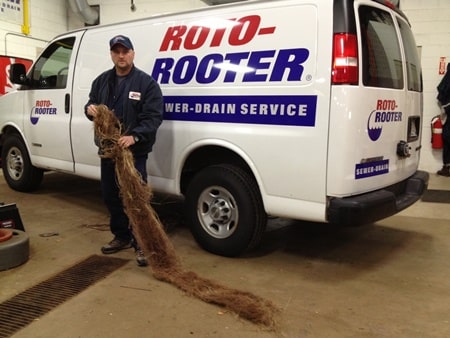 By Ben Huth
Roto-Rooter Milwaukee drain cleaners specialize in delivering exclusive, immediate results in root removal and other remedies for clogged drains in Wisconsin. Unfortunately, our clients don't always call Roto-Rooter first. Our West Allis drain cleaners often get called to the scene of a tough drain clog AFTER other Wisconsin plumbing service providers have come up short.
At Roto-Rooter, we call this "learning the hard way." And other Milwaukee drain cleaning service providers teach expensive lessons. Unlike the competition, our West Allis plumbers offer guaranteed results at competitive prices. Whether your clog is a toilet, sink drain, floor drain, downspout or outdoor area drain, calling our experienced Roto-Rooter Milwaukee drain cleaners will solve your problem.
Drain Cleaning Services in West Allis:
Dependable West Allis Drain Cleaning Service
Our consistency has created a loyal customer base of Wisconsinites who call on the OFFICIAL Roto-Rooter for all their Ozaukee, Milwaukee, Washington and Waukesha drain needs. Customers who have experienced our effectiveness in business and commercial drain cleaning know who to call when things go wrong at home, and conversely, our residential Milwaukee drain cleaning clients call us when slow running drains plague their workplace. Because we send knowledgeable, uniformed professionals in a service van equipped with all the latest drain cleaning technologies to the scene of every clogged drain problem, Roto-Rooter rates incredibly high for consumer confidence.
West Allis Drain Cleaners Offering Preventative Products
Before departing, our Roto-Rooter Milwaukee drain cleaners always offer tips and products for clog prevention and drain maintenance. Root-X kills root hairs and root masses inside your sewer lines without harming the rest of the root system or the trees on your property. Pipe Shield prevents blockages and build-up with a simple, fast, and occasional application.
When a slow running drain slows down your life, don't settle for less than the best West Allis plumbing services. Business and homeowners in Wauwatosa, Greenfield, Franklin, Oak Creek, New Berlin, Brookfield, and West Bend routinely rely on Roto-Rooter Milwaukee drain cleaners.
Join them in receiving expert drain and sewer cleaning services in Wisconsin. Call Roto-Rooter West Allis plumbers today: 414-541-4477.