Commercial Drain Cleaning

When Quality Air Forwarding, 137 W Boden St, Milwaukee, WI, had a drain clog up, they knew who to call: Roto-Rooter Milwaukee. Our technician came right over, diagnosed the problem and got the drain flowing smoothly in no time. The staff at Quality Air Forwarding were very pleased at how quickly the problem was resolved. They also loved our technician's job cleanup. If your business is struggling with slow or clogged drains in Milwaukee, be sure to give Roto-Rooter a call and we'll get things moving.
Dangers of Chemical Drain Cleaners

Problem: Certain chemicals interact with the materials your drains are made from. The resulting reactions can be catastrophic. People die and are seriously injured every year from chemical reactions when trying to clear clogs from their drains.

Solution: If your drain is clogged and you aren't well-versed in chemical reactions, your best bet is to contact Roto-Rooter Milwaukee to get the clogged pipe flowing.

Clogged Urinals in Milwaukee

Use Roto-Rooter's drain cleaning service in Milwaukee when your business' urinals are clogged. We get to business quickly, so you can return to yours.

What's clogging your urinal could be any number of things. Sometimes it's the urinal cakes getting broken and not dissolving fast enough. Other times it's coagulated masses of hair and someone's unfinished protein shake. People do weird things. We're not here to judge.

Milwaukee Sewer Line Locating

Digging in Your Yard: 101

Expensive damages are almost bound to happen if you don't know where your sewer lines are buried.

Hazards of Uninformed Digging:

Expensive repairs
Lasting pollution
Project delays

Why take the chance? Roto-Rooter provides sewer line locating service in Milwaukee to save you money on repairs.

Sewer Line Televising Saves Money

Roto-Rooter Milwaukee knows how to clear clogs and retrieve items from your drain pipes; whether it's an earring down your bathroom sink or a tree root in your sewer.

Your bathroom, kitchen, or utility sink, or a floor drain? No worries. We fix the problem with the help of sewer line camera service in Milwaukee.
Indoor and Outdoor Commercial Drain Services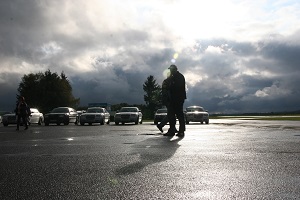 Roto-Rooter Milwaukee cleans indoor drains like sinks, toilets and floor drains, but we also unclog outdoor drainage systems, too. If your business's parking lot is flooded because of a blockage in the catch basin, we'll come right over and clean it out. Even backed up commercial downspouts are no match for our trained technicians. No matter what kind of pipe or drain is clogged at your business, Roto-Rooter can and will clean it out.
Common Commercial Pipe Blockage Causes
Just like residential plumbing, commercial pipes clog when items get stuck inside them. The exact cause of a blockage often depends on the type of business, but common items clogging the drain are things like toys, mop strings, grease and food particles. Outdoor catch basins are usually plugged by leaves and branches, but other items can and do get stuck inside them, causing water to back up. Whether your company is a daycare, restaurant, or an expedited shipping company like Quality Air Forwarding, trust Roto-Rooter to diagnose your problem and fix your pipes quickly.