Pewaukee Drain Cleaning
Tree Root Pulled from Pewaukee Sewer Drain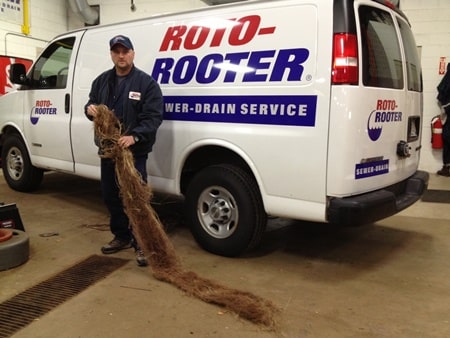 Our drain cleaning experts in Pewaukee removed a massive tree root from our client's drainage system. Roto-Rooter Milwaukee's operations Manager Ben Huth arrived on site and attempted to clear away the debris via a water jet cutting machine.
He quickly discerned he'd need some stronger hardware for the job and used a rooter-machine with special cutting tip called the "warthog". The massive root was featured in Roto-Rooter's "Monster Root" series and was among the biggest tree roots removed in Wisconsin this year.
Read more about the Pewaukee tree root removal.
Roto-Rooter Milwaukee specializes in stubborn sewer and line blockages. We employ agressive clog busting techniques to remove roots, grime and buildup. Next time you have a line blockage that just won't budge, save some time and money by skipping a plumber and calling Roto-Rooter Milwaukee.
24/7 Emergency Service 414-541-4477
Roto-Rooter is a full-service plumbing problem-solver, offering these services for both homeowners and businesses in Pewaukee: