HUGE Tree Root Removed in Pewaukee (Picture)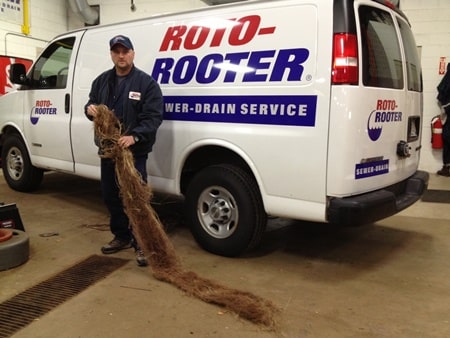 A storm sewer drain clog cleaning in Pewaukee yielded this monster root. The tree root was discovered among the culprits of a massive clog during Wisconsin basement flooding epidemic this April.
When high pressure water jet cutting was insufficient to get the root mass removed, Roto-Rooter Milwaukee drain cleaning operations manager Ben Huth used a special cutting tip called the wart hog to solve the problem.
Pewaukee Drain Cleaning Success
Milwaukee Roto-Rooter gained another submission to their national "monster root" series on their facebook page after we took a picture of this root mass. Our root was about 8 feet long and 4 or 5 inches in diameter, making it the biggest root found in Southeastern Wisconsin so far in 2013.
Roto-Rooter drain cleaning experts can clear root masses without harming the tree, leaving "Root-X" coating inside pipes. Root-X prevents tree roots from growing into your drain pipes, killing the root fibers on contact without harming the overall root system or the tree above.
When you need Pewaukee drain cleaning, tree roots in your drain pipe system may be a culprit. Contact Roto-Rooter for an effective 24 hour emergency response.