Sewer Line vs Storm Drain: Understanding Where Milwaukee's Clogs Happen
Storm and Sewer Lines Can Both Clog
Homes and businesses in southeast Wisconsin, including Milwaukee and Waukesha, have two kinds of drains: sewer and storm. Sewer lines are used to remove all waste water from your home, whether it's from a toilet, sink, bathtub, dishwasher or other fixture. Storm lines connect water run-off from rain storms to the sewer. Each kind of line can clog, but for different reasons. If you're having trouble locating your sewer line, Roto-Rooter's technicians can help.
What Clogs Storm Drains? Milwaukee Roto-Rooter Explains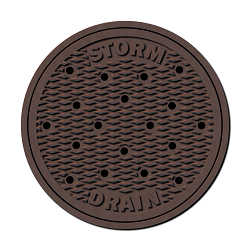 Storm drains, also called catch basins, clog for two main reasons: unusually heavy rains and accumulated debris. If leaves, sticks, garbage or other waste collects in a storm drain, rain water is unable to flow freely and it begins to back up. Plant roots are also capable of breaking into pipes and restricting water flow, causing back-ups. The result is often basement flooding.
Many people think a clogged storm drain is the city's problem and Milwaukee or Waukesha will send technicians to unclog it. Unfortunately, homeowners are actually responsible for maintaining their storm water drains up to where it meets with the municipal sewer line.
If there is water backing up into your basement during or after a heavy rain, you probably have a clogged or blocked storm drain. Milwaukee Roto-Rooter is available 24/7 to inspect your catch basin and clean the pipes so things flow smoothly again.
Contact Roto-Rooter Milwaukee today.
Sanitary Sewer Line Clogs: The Unmentionables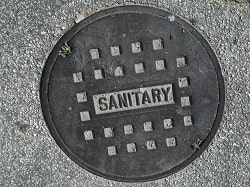 Your home's sanitary sewer line is used to move dirty water into the municipal sewer system for cleaning and treating. Each fixture in your home drains to the later line under your basement. The lateral connects your home's pipes to the main, municipal sewer line.
When waste or items like diapers, napkins or paper towels get stuck on their way from your toilet, sink or bathtub to the sewer, disgusting back-ups occur. These clogs can happen in the pipes inside your home or in the lateral line leading from your home to the municipal sewer. Clogs in the lateral are often caused by tree roots penetrating the pipe and restricting flow.
Either way, dirty waste water will not drain to the sewer like it should. When your plumbing fixtures are backed up, Roto-Rooter's Milwaukee drain cleaning professionals are ready at a moment's notice to get things flowing the right way.