Catch Basin and Storm Drain Cleaning, Maintenance and Repair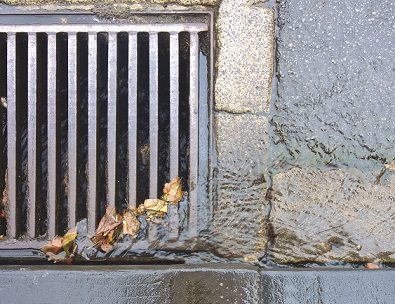 A storm drain and catch basin are different names for the same part of a drainage system designed to hold excess water during a heavy rainstorm or flood. Storm drains are found in the flattest, lowest areas of a municipality's perimeter, preventing flooding in low areas. Storm drains are usually found along sidewalks, in parking areas, in parks and on streets. A storm drain or catch basin is basically a large diameter pipe covered with a large grille or grate called a curb inlet. When heavy rainfall occurs the excess water drains into these catch basins relieving the low lying area of excessive water and flooding.
Municipal storm drains are also designed to collect excess street debris to prevent it from getting into the municipal sewer system and plugging drain pipes. Between litter and fall leaves, a storm drain or catch basin can quickly fill and get backed up. A backed up storm drain means a flooded area including possibly your home, business or basement. To prevent storm drains from filling up they should be cleaned on a regular basis. Roto-Rooter Milwaukee is your best source for storm drain cleaning and catch basin maintenance.
Clogged Storm Drain Remedies
Roof storm drains operate with the same goal: draining excess rainwater. Roof storm drains remove water from a flat-top roof. When backed up with leaves and debris, roof storm draining becomes necessary. A clogged roof storm drain is extremely serious; a flooded roof could have devastating consequences. Collecting rainwater could cause excessive damage, including leaky ceiling tiles and even a roof collapse.
Roof storm drains work in conjunction with street level catch basins to move storm water off of the surface and prevent flooding. Roof storm drains remove the water and send it to the street level catch basin. Simply maintaining your roof storm drain may not be enough to protect your property. If the street level catch basin is clogged, you risk water flooding at the ground level. Protect your entire property by calling the Roto-Rooter Milwaukee drain cleaning professionals. Regular drain cleaning is a simple preventative measure to avoid large water damage repair costs.
Catch Basin and Strom Drain Cleaning Services
Preventing storm drain and catch basin clogs is easy with regular inspection and drain cleaning services. The EPA suggests an annual inspection of catch basins and storm drains to determine if a drain cleaning is needed. Periodic grate and grille cleaning as well as cleaning out the bottom of the storm basin is also recommended.
Roto-Rooter Milwaukee drain cleaners are ready to assist you in keeping your catch basins and strom drains clean. Call us today at 414-541-4477.