24/7 Emergency Drain Cleaning Service
Call Roto-Rooter for 24-7 emergency drain cleaning and rest assured that your plumbing system is in good hands with our experienced technicians. Don't risk your safety with DIY fixes. We'll fix it right the first time, every time, and at any time: day, night, weekend, or weekday. There's a reason why Roto-Rooter is a synonym for drain cleaning.

When to Call a Plumber

Water spraying everywhere
New-building plumbing installation
Water damage on walls or ceilings
Low water pressure
Water won't stop running

When to Call Roto-Rooter

Slowly draining kitchen sink
Clogged bathtub/shower drain
Stopped up floor drain
Lost item down any drain
Almost any slowing of almost any drain
Trust Roto-Rooter's skilled plumbers to diagnose and fix any drain issue using our advanced equipment, including drain cameras. We have the expertise to fix any complex drain issue and can also repair any cracked or leaky pipes, giving you the confidence that your plumbing will function properly.
Free Estimates for All Services
24/7 Emergency Repair: Including Fridays, Saturdays, & Sundays
We understand you don't schedule your plumbing disasters If you're in need of reliable plumbing services, turn to the experts at Milwaukee Roto-Rooter cleaning company, Wisconsin's trusted brand since 1941. With our upfront pricing and experienced plumbers, you can trust that we'll fix any problem as soon as possible. A pipe might burst late Friday night and turn your kitchen into an indoor pool. Give us a ring anytime, day or night, even on holidays.
We offer all the plumbing services you will need including:
Quick Tips to Avoid a Plumbing Disaster
Pour water down floor drains to check for clogs.
Drain outdoor faucets before freezing temperatures set in.
Insulate exposed pipes to prevent freezing and cracking.
Use drain screens in sinks, bathtubs, and showers to prevent clogs.
Use your garbage disposal correctly to prevent clogs.
Find the main water shutoff valve in advance of an emergency.
Regularly clear catch basins of debris to prevent clogs.
Following these tips will lessen the chance of an unexpected plumbing issue, but problems can still arise.
Tree Roots Stuck in your Water Lines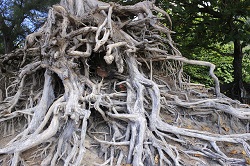 To detect a tree root clog, check for slow drainage. Roto-Rooter Milwaukee uses line televising technology to locate blockages and water jetting to clear them. But don't take our word for it; the proof is in the plumbing.
How to Stop Your Sink from Backing Up
Locate your main water supply valve - this should be located in your basement, along the perimeter

SHUT OFF your MAIN WATER SUPPLY – this should stop the water from continuing to flow up into your sink

Use a bucket to remove all but 3 or 4 inches of water from your sink

Wait patiently for Roto-Rooter to arrive and save the day
If turning off the main water supply valve does not work, your backup is coming from somewhere else (within the system of your plumbing), and you need to be active and vigilant while our Roto-Rooter technician races to your location. You may want to:
Grab a bucket and keep removing water from the sink, dumping the water outside or in some other water receptacle (tub, basin, toilet) inside your home
A Roto-Rooter technician will show up as soon as we possibly can to prevent any more damage from happening to your home.
Will repairing a backed-up sewer pipe harm my yard?

We aim to fix the issue with minimal disruption to your property and strive to be gentle in our approach to correct and clean the backup, understanding the stress that lawn repair can cause.
What could be causing my toilet to clog frequently?
Based on our experience, the main reasons are typically using too much toilet paper, an outdated toilet, flushing non-flushable items, or inadequate water in the bowl. Roto-Rooter is available 24 hours a day to help you with any toilet unclogging needs.


Proudly serving Brown Deer, Milwaukee, Oak Creek, Cudahy, Shorewood, Sussex, New Berlin, Wauwatosa, West Allis, Greenfield and many other surrounding areas!
Contact the 24/7 emergency drain cleaners of Roto-Rooter for fast, dependable drain fixes.