24/7 Emergency Plumbing & Drain Cleaning
Roto-Rooter Milwaukee Does More than Unclog Drains
When your kitchen sink is spraying water everywhere and the toilet is overflowing onto the bathroom floor, don't wait a moment longer than necessary (or try a dangerous DIY plumbing fix), call Roto-Rooter right away. Our 24/7 emergency drain cleaners will come right over with a van full of the industry's best equipment. If it's a simple clog, we'll clean your pipes quickly with our patented Roto-Rooter machines.

We even have a camera we can put down your drain to see exactly what's causing the problem. It may be a toy, tree roots or even an animal stuck in your pipes. No matter what is wrong with your drains, rest assured the talented plumbers at Roto-Rooter can fix it.
Other problems, like cracked or leaky pipes, can also be repaired by our skilled drain technicians.
Free Estimates for All Services
Plus, free estimates are available, letting you know in advance how much the repairs should cost.
Before you have just any old plumber try to fix the problem, give Milwaukee Roto-Rooter a call. You'd be surprised how often we're called in after somebody else tried to fix the problem but only made matters worse. Sometimes, plumbers will arrive and then turn down a job when they see how severe the plumbing damage is.
Don't waste time having a second-rate plumbing service arrive only to leave you stranded (but not high or dry). Go straight to the brand Wisconsin has trusted since 1941. We'll fix it right the first time, every time, and at any time: day, night, weekend, or weekday.
There's a reason why Roto-Rooter is a synonym for drain cleaning.
Weekend Service: Friday, Saturday, & Sunday
We understand you don't schedule your plumbing disasters. A pipe might burst late Friday night and turn your kitchen into an indoor pool. Give us a ring anytime, day or night, even on holidays, and you can count on southeast Wisconsin's best emergency drain cleaners coming straight over to fix whatever is broken, remove whatever is stuck, or recover whatever's been lost in your drain(s).

Quick Tips to Avoid a Plumbing Fiasco
Plumbing emergencies strike unexpectedly, but this doesn't mean you can't take a few steps to minimize the likelihood of a total disaster. Here are a few easy things you can do to check your plumbing for problems before things go wrong.
Pour Water Down Floor Drains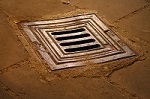 Near the end of winter and shortly after the spring thaw is over, fill a five-gallon bucket with water. Pour all of it down your basement's floor drain and see if any of it pools. If the water is slow to drain, you might have a small clog. If the clog gets bigger or a heavy rainfall caused more water to enter your pipes, you very well could end up with a flooded basement. Take action and either clear the blockage yourself with a small auger or contact Milwaukee Roto-Rooter and we'll come to inspect and clean your pipes, with our own line of drain cleaning chemicals, guaranteed safe in your pipes.
Drain Outdoor Faucets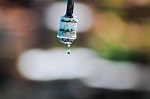 Never forget to drain all outdoor faucets before freezing temperatures set in. Failure to do so will result in cracked pipes, leaky faucets, and potential water buildup around your foundation. Simply remembering to shut off water to external faucets and then letting them drain can save homeowners from disastrous flooding.
Insulate Exposed Pipes

Pipes near the walls of your home and fully exposed pipes in your garage should be insulated. Failing to insulate them can lead to frozen, cracked pipes and expensive repairs. Fortunately, plumbing insulation is inexpensive and very easy to install. On particularly cold days, you should consider opening any cabinets or closets with pipes inside them to let your home's warm air minimize the chance of the pipes freezing. You can even let a slow trickle of water flow from the faucets to keep water circulating and further lessen the chance of a pipe freezing.
Use Drain Screens

Small, inexpensive drain screens are a great way to prevent a lot of clogged pipes. Usually made of plastic or metal, these handy devices fit perfectly in the sink, bathtub and shower drains, preventing hair, food particles, and other large items from falling into the drain. You may even save a ring or other piece of jewelry from going down the drain. Similar screens are also available for washing machine hoses, designed to keep debris out of the machines. While these screens don't trap everything, they do go a long way in preventing clogged pipes and the resulting water backups.
Use Your Garbage Disposal Correctly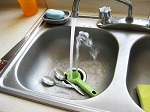 Garbage disposals are great, but they do have their limits. If you use them improperly, you'll clog your pipes and have serious problems. When using your garbage disposal, be sure to run water through it while adding waste and keep the water coming for several seconds after all the scraps have been put in it. Be careful what items you put in the disposal. Things like fruit or vegetable peels, bones or poultry skins will cause serious clogs. Also, avoid running your dishwasher at the same time as your garbage disposal. They are usually connected to the same pipe and having both go at once can cause problems. If your garbage disposal is clogged, call Roto-Rooter Milwaukee and ask about our water jetting services.
Find the Main Water Shutoff Valve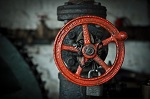 Homes have many plumbing shut-off valves. Generally, each fixture has at least one shut-off switch, although some may have more. If you have a leak, you can use the specific shut-off switch to cut water to the leaky fixture. Unfortunately, many shut-off valves are hard to find and it can be tricky to figure out just where the leak is coming from. So, instead of hunting for the individual valve, it's often easier to use the home's main shut-off switch instead. This will cut water throughout the house, preventing the flood from growing out of control. Take the time to locate the main shut-off valve now, so you don't have to waste precious time when disaster strikes. If it's in a closet or difficult to reach, be sure to keep any necessary tools, like a flashlight, nearby.
Regularly Clear Catch Basin of Debris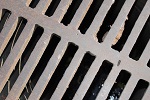 Whether you're a residential home or a business, clearing the storm drain by your home of debris is important for your plumbing. Not cleaning the debris from your storm drain can lead to clogs and the buildup of unwanted materials, such as leaves, sticks, or other organic debris. While organic debris does break down much faster than artificial debris (a.k.a. garbage), it doesn't break down fast enough to prevent clogs. Check out more about clogged storm drains or catch basins.

When Things Go Wrong, Call Roto-Rooter
Following these tips will lessen the chance of an unexpected plumbing issue, but problems can still arise. When they do, contact Roto-Rooter Milwaukee right away. Our skilled technicians respond to plumbing emergencies 24/7/365. It's not uncommon for us to respond to clogged kitchen sinks on Thanksgiving, flooded basements on weekends, or slow draining pipes in the middle of the day. Whenever you experience a drain emergency, Roto-Rooter will diagnose and fix the problem at a moment's notice.
Tree Roots Stuck in your Water Lines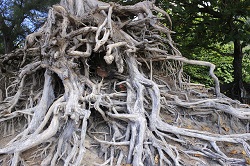 You'll know something is wrong with your drainage systems when there's a substantially sized tree root stuck in your pipes. You may not know it's a tree root, but you'll know something is wrong. How will you know if you have a tree root stuck clogging your pipes? Your pipes will be draining extra slowly. Let Roto-Rooter Milwaukee come to take a look at your pipes. We can use our line televising technology, which allows us to put a tiny camera into the pipes and have a good look at what's clogging them. If the tree root is small enough, we can use our water jetting tools to cut the root out and flush it through your pipes. But don't take our word for it; the proof is in the plumbing.
How to Stop Your Sink from Backing Up
Locate your main water supply valve - this should be located in your basement, along the perimeter
SHUT OFF your MAIN WATER SUPPLY – this should stop the water from continuing to flow up into your sink
Use a bucket to remove all but 3 or 4 inches of water from your sink
Wait patiently for Roto-Rooter to arrive and save the day – this shouldn't take long
When your sink is backing up, call Roto-Rooter. We'll be there as soon as possible to prevent as much damage as possible from happening to your home. In the meantime, follow the steps above to prevent any more overflow from happening.
If turning off the main water supply valve does not work, your backup is coming from somewhere else (within the system of your plumbing), and you need to be active and vigilant while our Roto-Rooter technician races to your location. You may want to:
Grab a bucket and keep removing water from the sink, dumping the water outside or in some other water receptacle (tub, basin, toilet) inside your home
A Roto-Rooter technician will show up as soon as we possibly can to prevent any / more damage from happening to your home. We do the work right the first time, so you don't have to see us back anytime soon.
We offer all the plumbing services you will need including: