24 Hour Drain Cleaning & Emergency Plumbing Service
Call Milwaukee Roto-Rooter for 24/7 emergency plumbing and drain services! Our experienced technicians are on-call 365 days a year to handle your most urgent plumbing distasters. Roto-Rooter is Milwaukee's choice for 24 hour drain cleaning services- we'll get your drains cleared in no time.

When to Call a Plumber

Water spraying everywhere
New-building plumbing installation

Low water pressure

Water won't stop running

When to Call Roto-Rooter

Slowly draining kitchen, bathroom or laundry room sink
Clogged bathtub/shower drain
Stopped up floor drain
Lost item down any drain
Trust Roto-Rooter's skilled plumbers and certified technicians to diagnose and fix any emergency plumbing and drain need- we offer 24 hour drain cleaning every day of the year- even on holidays. We use the most advanced plumbing equipment, including drain cameras, to bring you the best drain service you'll find anywhere. The pros at Roto-Rooter have the expertise to fix any emergency plumbing and drain issue imaginable. Breathe easy knowing the team of Milwaukee plumbers and techs at Roto-Rooter will clean your drains effectively and efficiently at a great price.
Free Estimates for All Services
24/7 Emergency Repair: Including Fridays, Saturdays, Sundays & Holidays
When emergency plumbing and drain situations arise, Roto-Rooter will be there! The experts at our Milwaukee location will give you confidence and peace of mind from a job well done.
We offer all the plumbing and 24 hour drain cleaning services you need:
How to avoid future plumbing emergencies:
Pour water down floor drains to check for clogs.
Drain outdoor faucets before freezing temperatures set in.
Insulate exposed pipes to prevent freezing and cracking.
Use drain screens in sinks, bathtubs, and showers to prevent clogs.
Use your garbage disposal correctly to prevent clogs.
Locate your home's main water emergency shutoff valve and know how to operate it.
Regularly clear catch basins of debris to prevent clogs.
Even if you care for your home's plumbing diligently, plumbing and drain emergenices can still occur. When they do, call Roto-Rooter for fast and reliable drain cleaning and plumbing service, 24/7.
Tree Roots Stuck in your Water Lines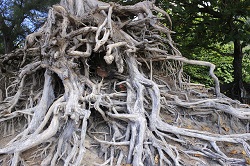 To detect a tree root clog, check for slow drainage. Roto-Rooter Milwaukee uses line televising technology to locate blockages and water jetting to clear them. But don't take our word for it; the proof is in the plumbing.
How to Stop Your Sink from Backing Up
Locate your main water supply valve - this should be located in your basement, along the perimeter

SHUT OFF your MAIN WATER SUPPLY – this should stop the water from continuing to flow up into your sink

Use a bucket to remove all but 3 or 4 inches of water from your sink

Roto-Rooter's emergency plumbers will be at your service ASAP.
If turning off the main water supply valve does not work, your backup is coming from somewhere else (within the system of your plumbing), and you need to be active and vigilant while our Roto-Rooter technician races to your location. You may want to grab a bucket and keep removing water from the sink, dumping the water outside or in some other water receptacle (tub, basin, toilet) inside your home.
Will repairing a backed-up sewer pipe harm my yard?

We aim to fix the issue with minimal disruption to your property and strive to be gentle in our approach to correct and clean the backup.
Why is my toilet clogging frequently?
Based on our experience, the top reasons toilets clog frequently are using too much toilet paper, having a very old toilet, flushing non-flushable items, and having inadequate water in the toilet bowl. Roto-Rooter is available 24 hours a day, any day of the year to address all of your drain cleaning and toilet unclogging needs.


Proudly serving Brown Deer, Milwaukee, Oak Creek, Cudahy, Shorewood, Sussex, New Berlin, Wauwatosa, West Allis, Greenfield and surrounding areas.
Contact the 24/7 emergency drain cleaners at Roto-Rooter for fast, dependable emergency plumbing and drain service.