Cutting to the Root of your Milwaukee Drain Cleaning Problem
Removing Tree Roots with Plumbing Services in Southeast Wisconsin
Each year, Roto-Rooter holds a "Monster Root" contest to compare the longest and largest roots (often described as "root masses") taken out of drain pipes across America. The results can be pretty ridiculous. The franchise record is over 200 feet long! Generally, Roto-Rooter Milwaukee drain cleaning experts get called to handle root masses less than a few feet long, but shorter clumps can be just as disruptive. Without line televising technology, the only thing most people see is a non-working drain. Here's a little insight as to how roots get into sewer lines and how our Milwaukee drain cleaners remove them, 24/7.
Plumbers on How Roots Grow Into Your Sewer Line
A tree's mission is to compete for resources keeping it alive. With a tall trunk, sprawling branches, and broad leaves or dense needles, it grows upwards and outwards to compete for sunlight. Sometimes trees will grow out sideways over riverbanks to absorb some less-competitive light. The shorter and less expansive trees are literally left in the shadow of their taller neighbors, and thus have a lower chance of surviving and producing successful seeds.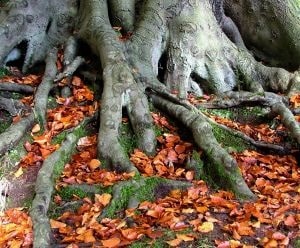 The same process occurs underground, only instead of competing for sunlight, the trees compete for water and nutrients. Underground root systems generally contain significantly more mass and a broader area than the entire above-ground tree. Beneath the surface of any wooded area a battle rages as trees and plants slowly and silently fight for resources.
Massive roots give way to feeder roots and root hairs which can penetrate the tiniest of openings. Sometimes the roots themselves will damage their way into your pipes by separating connected pieces or causing breakages. For the luckiest trees, getting part of their root system into sewer drain pipes provides an ideal water supply. Nearby homeowners are not so lucky.
Removing Roots via Milwaukee Sewer Cleaning Services
Roto-Rooter's Milwaukee plumbing services utilize a number of different methods for removing tree roots from drains. Modern technological innovation has yielded "high-pressure water jetting," allowing fine root hairs (along with the grime and debris collecting around them) to be blasted away, but to date, the most effective method for removing large masses of roots remains the Roto-Rooter Machine.

THE Roto-Rooter Machine was pioneered and perfected our company, and its efficiency has built the Roto-Rooter brand into the most trusted name in plumbing. The machine works by sending razor sharp spinning blades down into your drain pipe via a long cable to chew through root masses and debris. This is often preceded by feeding a fiber optic camera down the pipe in order to see the source of the drain clog, also known as "sewer line televising."

After the root is removed, Roto-Rooter Milwaukee drain cleaning professionals offer preventative products to coat the inside of your drain pipes, including RootX. RootX is specially formulated to kill the root masses inside your drain pipes without harming the trees in your yard.