Wisconsin Storm Drain Cleaning Services
Storm Sewer Cleaning in Southeastern Wisconsin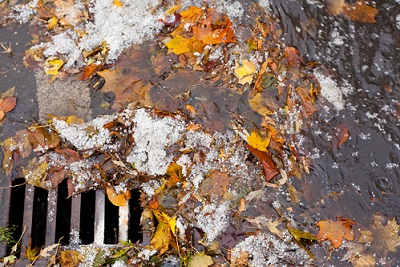 Storm sewer drains protect you against property damage by keeping rainfall, groundwater and snowmelt away from your building's foundation. These drains often work in conjunction with gutters. Storm sewers move water from parking lots, streets and other pavement. A severe clog renders a storm drain worse than useless by collecting water exactly in the area it is supposed to protect. To resolve this problem, contact the best Wisconsin storm sewer drain cleaning service; call Roto-Rooter Milwaukee drain cleaning experts today.
Storm drains are usually strategically located near a curb, gutter or other water collection device. A drain's effectiveness often depends highly on its placement. Modifying the landscape or architecture can have a significant impact on the efficiency of the storm drain. Our expert Milwaukee drain cleaners will determine the source of your drainage issue. Often, grates and screens become completely clogged with yard waste, litter and assorted debris. Some storm drains utilize a "catch basin" to trap refuse as it enters the system.
Your Roto-Rooter Milwaukee drain cleaning service will utilize the latest line locating and line locating technology to find and resolve your storm drain clog. We'll choose the most effective tool for fixing the issue. For leaves, litter and grime we'll operate a high pressure water jet cutter to blast through the debris. For tree roots we'll use a bladed Roto-Rooter cutting machine to restore your storm sewer drain pipe to normalcy.
Our West Allis plumbers provide the best storm sewer drain cleaning service and 24 hour emergency services in Dane, Rock, Jefferson & Walworth County.
To experience exclusive results in Wisconsin storm sewer services, contact our Roto-Rooter Milwaukee drain cleaners today.