Gutter & Downspout Cleaning
Does the Roto-Rooter drain cleaning service extend to outdoor clogs? Yes. We are so much more, including a gutter cleaning service. Now is the time to think about cleaning out your gutters or have someone do it for you.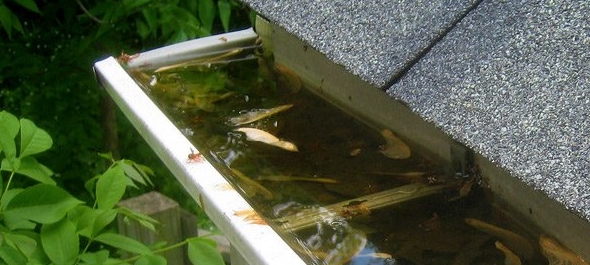 Leaves and twigs fall or your roof, wind kicks up, rain pours down, and those leaves end up in your gutters. Doesn't sound like much of a problem until you think about why the gutters are there to begin with. Clean gutters give the water an organized path away from your house and its foundation; clogged gutters do not.
How does rain affect the foundation?
Rainwater seeps into the ground and needs a place to go. Your basement is a big cavity in the ground where the rain would have otherwise gone, so it's going to try to get in there. Gutters channel the water to the downspouts, and the downspouts lead the water away from your foundation, maintaining its integrity and saving you thousands of dollars in repair costs.
How often should you clean your gutters?
It's recommended that you clean your gutters at least 2 times a year. That's only an average. If you live under a lot of tall trees, it might be better for you to clean them 3 or 4 times a year or after big autumn storms when sticks and leaves are shaken off the trees.
Get Preventative Gutter Cleaning from Roto-Rooter Milwaukee
Rain will find any minor cracks in your foundation and hide there until forced to leave. Since this is Wisconsin, land of the Frozen Tundra, winter will freeze that water, and water expands when it freezes, making the crack even larger. Next year, more rain will get in that crack and freeze, enlarging the crack. And the cycle goes on and on until you notice it on the inside wall. Then it's too late. The damage is done. Keep your gutters in great condition by contacting Roto-Rooter Milwaukee. We offer professional gutter cleaning services that remove the hassle of doing it yourself.